There are so many great Canadian brands and companies to shop with this season so let's dive into some great gifts you can get right here in the Great White North!
2022 Gift Guide: The Button One
Something They Want: How nice is a little box of self care, delivered right to your door, every season? LittleLifeBox is seasonal subscription box company out of Morin Heights, QC. One of my favourite things about this company is that they aren't just Canadian, they also promote Canadian by hand picking great Canadian brands to put in their boxes!
Something To Wear: What's more cozy that a Smash+Tess romper you ask? I Smash+Tess romper with a hood! Lounge in with the Day-Off Romper because it's a onesie and a hoodie all in one! Ultimate comfort!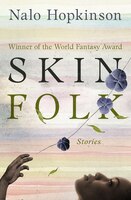 Something To Read: If you're like me and enjoy a variety of genres, look no further than Jamaican-Canadian author, Nalo Hopkinson's book of short stories; Skin Folk. From sci-fi, to romance, to horror, to Caribbean folklore, this collection has a plethora of exciting tales!
(*Skin Folk: Stories by Nalo Hopkinson at *Chapter's/Indigo)
Stocking Stuffers
Happy Shopping Season everyone!
xxo
C
*Canadian Companies
(Affiliate Links Included In Post)